The Chamber of Commerce is the hub of opportunities for business professionals to connect.  Please click the links to register for the event.  There are many levels of sponsorship available to promote your business please contact us for more details.
Golf Outing ~ June 17, 2021

Join the Chamber staff, fellow chamber investors, friends, and presenting sponsor Smith & Eddy Insurance to Blast Off the Summer season, at the Chamber's Annual Golf Outing!
Spend the day with area business professionals while enjoying the beautiful scenic views, impeccably maintained greens, tree-lined fairways, and challenging hazards at Crystal Mountain's Betsie Valley Course.  It will provide the perfect retreat for you, your colleagues, and your clients.
Schedule:
10:00 am Registration - Enjoy a Lite Breakfast with a choice of a Bloody Mary, Mimosa, or Beer.
11:00 am Shotgun Start
1:30 - 3:30 pm Drive-in Lunch/Dinner Buffet served at the turn!
5:00 - 6:00 pm Program and Awards
*Due to current circumstances the event may shift or change on this day.   Please observe social distancing and bring a mask.
Register yourself or your winning team here
Sponsorship opportunities are available.  Contact us at Kristina@ManisteeChamber.com if you would like to explore the options.
Business After Hours is a relaxed social gathering designed to connect business professionals within our community.  It provides a forum to expand personal networks, develop new & existing clients, share ideas and resources, as well as foster long-lasting business and civic relationships.
Business After Hours is held from 5:30 pm - 7:30 pm on the 2nd Thursday of the month except for the months of July, August, and November.  Due to COVID-19, this program is not currently being scheduled.  Stayed tuned it will return!
FORMAT FOR BUSINESS AFTER HOURS 
5:00 pm - 5:30 pm     Admission / Check In
5:30 pm – 6:50 pm     Networking / Appetizers / Cocktails
6:50 pm - 7:10 pm     Program / Sponsor Promotion
7:10 pm - 7:30 pm Networking
*This is the time for the sponsor & host to speak about their businesses. Please be respectful and listen as you would want them to do for you.
If you are interested in sponsoring a Business After Hours please contact us 231-723-2575 or email Kristina@ManisteeChamber.com.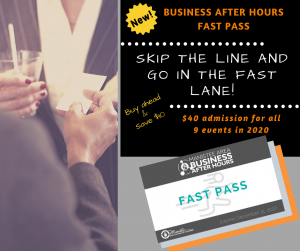 Avoid the lines and having cash we are offering a VIP Fast Pass.
Purchase this pass for $40.00 which covers your admission for the entire year.
Each year The Manistee Area Chamber of Commerce celebrates and recognizes champion businesses, business leaders, and organizations.  This semi-formal evening starts with a cocktail to network and mingle followed by dinner, the awards program, and will be wrapped up with a lively after-party!
Our members nominate businesses and individuals whose personal efforts exemplify leadership & success which make a difference in our community within the following categories:
Business of the Year (in operations over 3 years and must have 25 or more employees)
Business Person of the Year
Small Business of the Year (in operation for over 3 years and have under 25 employees)
The Rising Star (Business who are 1-3 years new)
Community Action
Considering becoming a sponsor for this event?  Call or email us to talk more!
The morning portion of this event is to promote workforce development within our community.  It is designed to connect area high school students with local businesses to explore career possibilities that may have been unseen before.  We want to increase students' self-knowledge and discovery, and result in an experience that gives them hope that there are local opportunities available for their future.  career path exploration, local services & employers.  It also provides a space for local seasonal employment opportunities to be discussed and presented.
The afternoon portion will feature a luncheon with one or more engaging and informative speakers for the Manistee County business community.  It is designed to give attendees an opportunity for learning, to enhance both personal and professional growth, as well as network with fellow business professionals.
If you are interested in showcasing your company at the event or being a sponsor of the event please contact us!