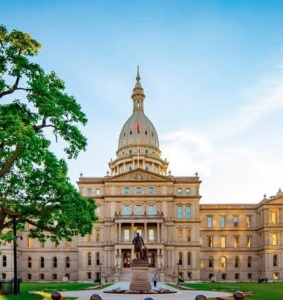 The Manistee Area Chamber of Commerce is a proud partner of the Northern Michigan Chamber Alliance.  The Alliance was established based on the premise that many legislative issues impact Northern Michigan's Upper and Northern Lower regions in similar ways.
Vision - Northern Michigan is recognized as a world-class business destination.
Mission - Aggressively pursue rural and investor-focused policy initiatives at the state level.
The Chamber Alliance is an effective statewide policy leader and aggressive advocate for business that enacts and defends rural-centric business policy.  Manistee Area Chamber's Stacie Bytwork currently serves as the Chair of the Northern Michigan Chamber Alliance.  She leads eight other Chambers' of Commerce in advocacy & policy.
The Alliance includes Partners Alpena Area Chamber, Benzie County Chamber of Commerce, Cadillac Area Chamber of Commerce, Charlevoix Area Chamber of Commerce, Gaylord Area Chamber of Commerce, Petoskey Regional Chamber of Commerce, Traverse Connect, Manistee Area Chamber of Commerce, Lake Superior Community Partnership
And Associate Partners Elk Rapids Area Chamber of Commerce, Harbor Springs Area Chamber of Commerce, Boyne Area Chamber, East Jordan Area Chamber of Commerce, Cheboygan Area Chamber of Commerce, Sault Area Chamber of Commerce, Leelanau Peninsula Chamber of Commerce
Recent Legislative Action:
May 18, 2020 - Alliance Chair speaks at Governor's press conference to re-open Northern Michigan Watch Here
May 14, 2020 - Alliance Sends Letter to Governor Whitmer Offering to Showcase Reopening Strategies in Northern Michigan Read full letter
April 6, 2020 - Manistee Chamber Advocates for Local Restaurants
Manistee Area Government Relations Newsletters