Manistee Area Chamber of Commerce
Our mission is to build a dynamic and sustainable organization to serve the Business, Workforce and Economic Development needs of all in Manistee County.
$500,000 State Grant Supports Businesses Affected By COVID-19 
       **URGENT UPDATE**
GRANT ELIGIBILITY EXPANDED TO ADDITIONAL BUSINESSES
MARCH 27, 2020, 3:30 P.M. – A $500,000 Michigan Strategic Fund Grant from the Michigan Economic Development Corporation (MEDC) will support grants to businesses in the 10 counties of Northwest Lower Michigan affected by COVID-19. The eligibility for this program has been expanded from earlier notices to include ALL businesses impacted by the Governor's Shelter at Home Executive Order. 
The grant application deadline is next Friday, April 3.  Click Here for all the information
The Coronavirus Aid, Relief, and Economic Security (CARES) Act
Congress has approved $350 billion in emergency loans for small businesses to help them keep workers employed. In fact, if small businesses maintain or later restore their payrolls, they may not have to repay some — or possibly any — of the loan. The link below will include a guide and checklist from the U.S. Chamber of Commerce to help your small business through the process.  Click Here for all the information
Community Response Fund for Manistee County
A Community Response Fund (CRF) has been established at the Manistee County Community Foundation to support area nonprofit organizations, schools, and governments on the front lines serving those most impacted by the coronavirus pandemic.  Click Here to apply or for more information.
Paycheck Protection Loans Available April 3, 2020. 
On Tuesday, the U.S. Department of Treasury shared new information regarding the Paycheck Protection Program. The Paycheck Protection Program prioritizes millions of Americans employed by small businesses by authorizing up to $349 billion toward job retention and certain other expenses. Click Here for more information
Pure Michigan Business Connect offering up to $1 million in grants to manufacturers looking to retool and produce critical service supplies. 
Do you have the capability to produce critical health & human service supplies, but need assistance in scaling or purchasing equipment? Pure Michigan Business Connect is providing grant assistance to help companies or non-profits begin or ramp up production of critical supplies across a broad range of product categories. Click Here for more information
The Chamber has created a business survey to learn about the pressing needs and issues of our area businesses.  Survey responses will collect information and help the Chamber advocate for more resources.  If you would like direct assistance from chamber staff, complete the survey and you will be contacted within a short period of time.  To take the survey click on the purple box above.  All responses will be held confidential.

To combat the spread of COVID-19 in Michigan, Governor Whitmer signed the "Stay Home, Stay Safe" executive order (EO 2020-21). CLICK HERE directing all Michigan businesses and operations to temporarily suspend in-person operations that are not necessary to sustain or protect life.
EffectIve 12:01 AM, Tuesday, March 24, 2020.
Michigan Needs You. Your Fellow Americans Need You. Help Us Save Lives.  More information Here
Further clarity for critical workers is included in the U.S. Cybersecurity and Infrastructure Security Agency guidance available Here.
The State of Michigan is also building an FAQ page Here.
The Michigan Chamber of Commerce has provided a synopsis of the order. Here
UPDATES FROM LOCAL, REGIONAL, AND STATE PARTNERS:
Chamber Events & Program Sponsorship Opportunities
Festival Sponsorship Opportunities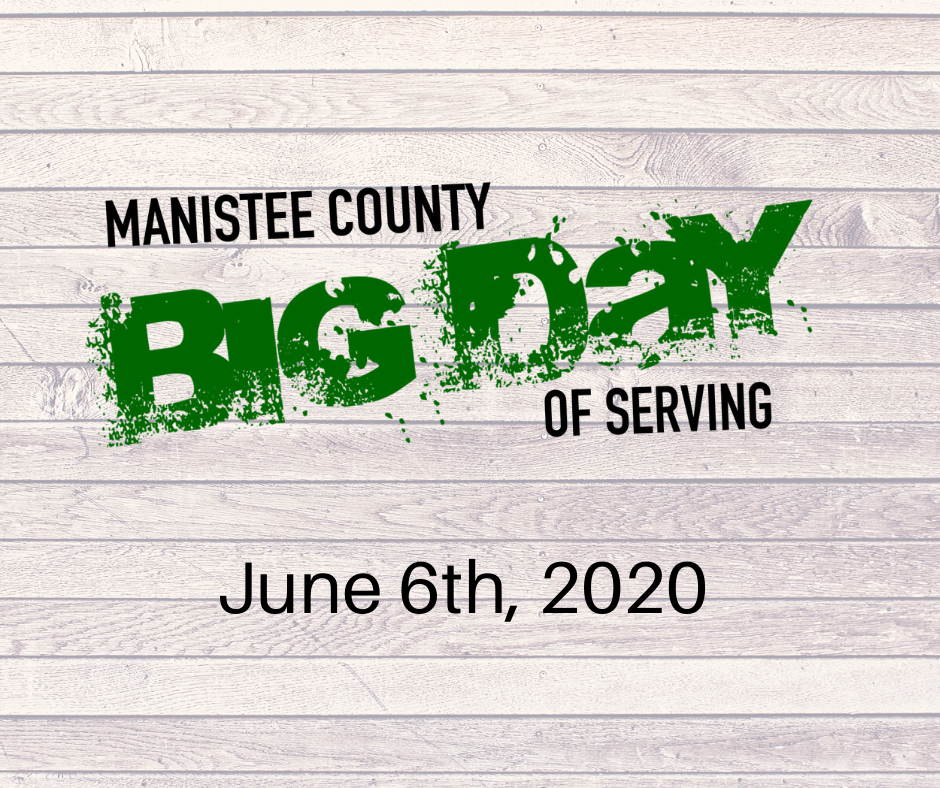 The Big Day of Serving is a one-day community service event organized by the Chamber Leadership program participants with multiple projects and volunteers serving all over Manistee County.
Volunteers come together to assist with community projects such as painting, lawn care, cleaning, minor construction, and much more.  This event is unifying and promotes collaboration across individuals and groups with differing backgrounds. It will not only make a difference through service but provide a foundation for future community-building initiatives in Manistee.
It is available for everyone in Manistee County, not limited to the City of Manistee! We will be completing county-wide projects.  Do you have a project that you would like to submit or would you like to be a volunteer please click the appropriate button below to get signed up!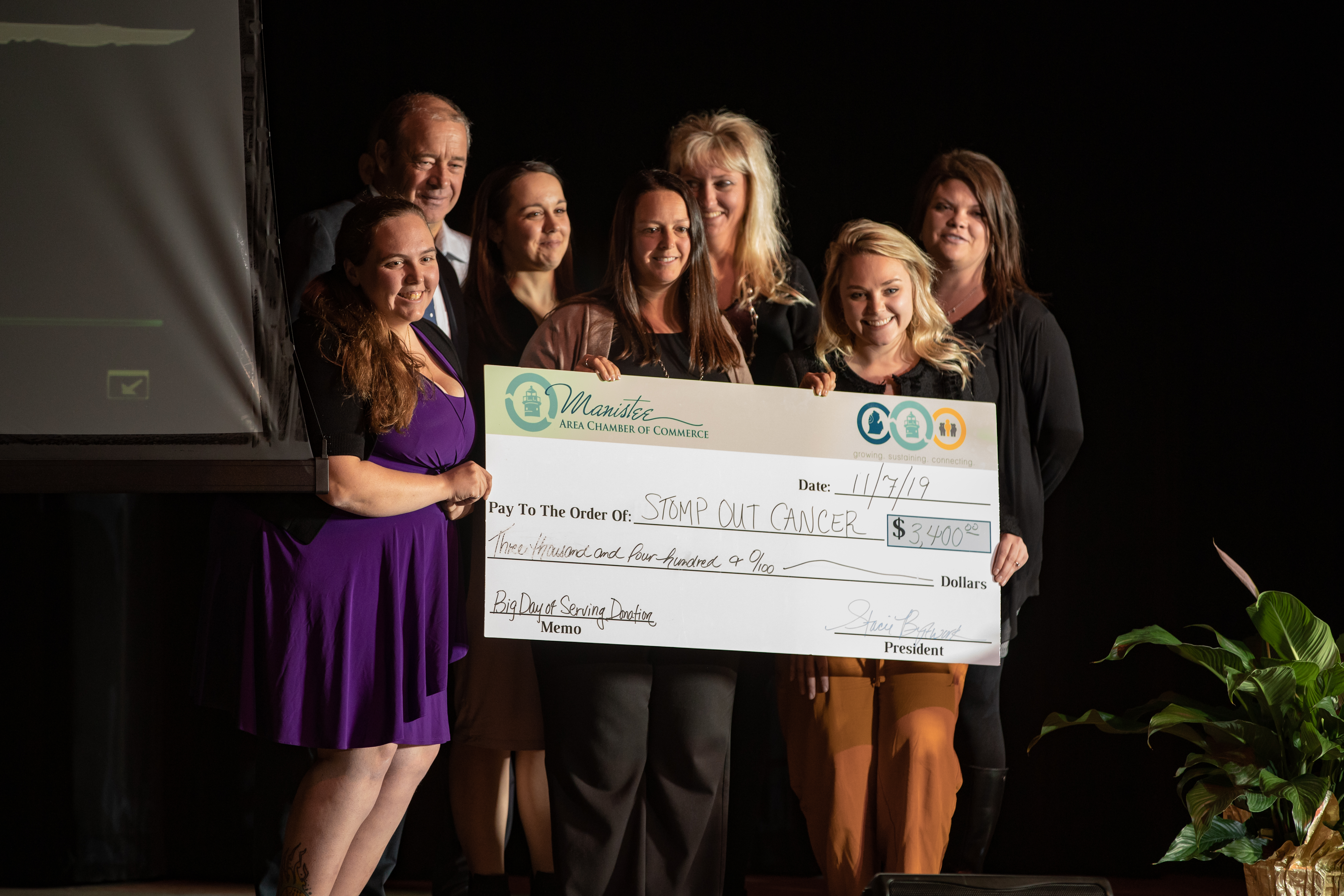 2017/2018 Leadership Class participants donating the Big Day of Serving proceeds to Stomp Out Cancer.
Thank you to our Corporate Sponsors, Sustaining Members, Underwriters, Partners and Leaders
Packaging_Corporation_of_America
West Shore Community College